Search Library Catalogue and EBSCO Discovery
RSS feed for system-wide library news.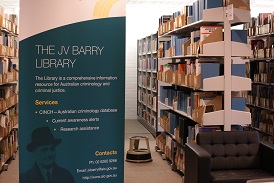 The JV Barry Library is a major criminal justice information resource that supports the information needs of the Institute's research programs and provides services to key stakeholders and other clients. It produces the CINCH database, an index of Australian criminal justice information (select from side bar to search).
The JV Barry Library houses the most comprehensive library-based collection in the field of criminology and criminal justice in Australia.